Covid Induced Reflection
I am a typical scion of the Zionists that came to Israel from Central Europe before and after WWII;  Westfalia in Western Germany and Olomouc in Czechia (Czech Republic) in my case. My grandparents on both sides where a living, breathing paradox.  They were accustomed to listen to classical music and have a glass of Cognac after dinner yet they now lived in the Levant, where people spoke a guttural language and were too busy building and defending a nation to allocate time for niceties.   They were, at all not ready for spicy Yemenite condiments like Schug…  But they were smart enough to know and act on what was happening around them.
Mom's family got up one morning in 1935 and crossed the border from Germany to Holland, leaving behind their department store that occupied a full block in the town of Eschweiler, a suburb of Achen today.  Dad was put on a train from Prague to London at the age of seven, he was one of the 669 jewish kids saved by Sir Nicholas Winton.  He was taken in by the Knight family in Dorset and later reunited with his mother and grandmother and emigrated to Israel.
My father was a pilot in the air-force and was killed a month before I was born, my mother named me Oded (loosely meaning "The one who encourages") because she knew I will face a tough start to life and will need encouragement.  I gained a stepdad when I was almost three. I grew up as a true Sabra, but spent two years in South America and a year in France as my stepdad was in the diplomatic corps.  I mention this because having lived in three cultures by the time I was eleven years-old made me a not-so-typical Israeli.  I experienced overt antisemitism first hand in Uruguay and the exquisite taste of escargot and moules (mussles) in France.  I truly believe it shaped me as a jack of all trades and a bit of a renaissance man.  By sixth grade I spoke Hebrew, French, Spanish and English and could understand a bit of German.
All of the above is directly related to what I do now, and have been doing since I came to study winemaking at UC Davis in 1984.  Winegrowing, as I like to call it, is a perfect blend of agriculture, science, art and industry.  On my website, under winemaking, I describe my wine dogma as:
I believe great tasting wines are those that are true to the people and place that grew them. Thus, I extend the notion of "terroir" to include the human aspect, not just the soils, climate and weather. As much as I possibly can, I'd rather work with a handshake instead of a legal contract, mutual respect in place of greed for another dollar. I do not agree that "bigger is better" and I certainly do not think that I know it all. What I can promise is to put my best efforts to grow and seek the highest-quality grapes I can and make wines that reflect my love for the little things that matter in life.
Welcome to the tribe.
Where do I start to explain and expand on this?  Not only do I not have the slightest idea, I also have no interest.  I'd like to think that the flavor, aroma texture and complexity of my wines tell the story in enough detail.  I think I'm wrong here.
Anything to do with taste and impression is by nature, subjective.  I hate black licorice, if you happen to love it – you can explain the great sensations you feel when you chew it for hours.  It will still make me gag.  I love cilantro, I can't have enough of it in some of my food, in fact – I make a cilantro based Schug to spice a lot of what I eat.  If you are one of those folk who get a soapy taste from cilantro, you will think I'm mad.  Wine enjoyment is a very personal experience, the sooner you believe in your capability to tell what tastes good to you, the more you will enjoy it.  After all, can't most people decide for themselves if they like goat cheese, or a gouda?  Wine is no different and you do not need a medal or a score to help you decide what is good or not.
America is a relatively young (a baby really) wine drinking nation.  We are barely starting to shed those diapers and the notion that owning a wine endorsed by a celebrity, or one that scored a platinum medal in the latest left-handed-trans-gender winemaking championship is worth having on your table.  Wine is still a status symbol and used as a trophy acquisition in America and many other nations where the middle class is on an upward move and wine is not yet part of the fabric of culture like it is in western Europe.
At Longboard Vineyards, we are just proud of being part of building a food and wine tradition in the US.  Something that did not exist 40 years ago, something that the Bay area, in particular, has been a major catalyst in forming.  For us, wine is only valid in the context of food and social or family interaction. Period.  To that end, we grow about 20% of the grapes we process and purchase the rest from our neighbors.  We do not bother with meaningless certifications but concentrate on making the best-tasting wine we can make with as little intervention possible.  All of our red wines and one of our two whites are bottled without the use of any finning additives and without filtration.  The wine certifications the public is bombarded with these days are nothing but marketing schemes, often fueled by good intentions but still – just designed to sell you stuff by making you feel good about "helping the planet".  Get over it, wine is NOT NATURAL for more than a week or so.  In nature fermented grape juice is oxidized to vinegar real fast but that is a subject for a separate blog post.
The biggest secret of my craft: grow good grapes and stay the hell out of the way while keeping a vigilant eye on evolution.
I am never offended if someone does not like one of my wines, if anything, I like to know I am hearing an honest opinion, I can always learn something from that.  More than anything, when you come visit us, hopefully soon, I hope you see we genuinely love to interact with wine lovers, we will not treat you like cattle.  We want you to have a fun experience and treat wine as something of a journey, one where you get to discover new varieties, new flavors and maybe even new things about yourself.
See you and host you at the surflounge soon, I hope.
Oded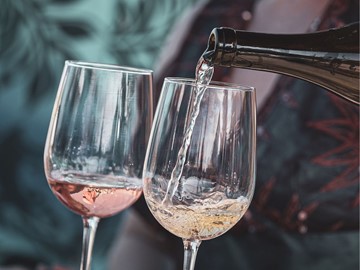 Longboard
COME VISIT US

5 Fitch Street
Healdsburg  CA  95448
Open 11 am to 6 pm daily
(707) 433 3473