Wine Gladiator
Just got back from a ten day sales trip on the road.  I look at the piles of paperwork on my kitchen table: cash receipts waiting to be totalled and categorized in one pile; credit card receipts on the other and miscellaneous stuff in the third pile.  On the floor there's a pile of shirts that need to go to the cleaners, a carry on with a torn name tag that needs repair (I always carry cable ties, just in case…), a spaghetti pile of electrical cords from all the chargers I had with me on the trip and, of course, a small hill of socks and undergarments that I wonder whether to burn or launder.

Most winemakers and proprietors hate being on the road, I am no different and must admit that I have often ranted about this necessary "evil" part of our job.  The red-eye flights in "cattle" class next to the guy who won't shut up, the stale air in Hotels rooms with windows that will not open, the trade and consumer wine events that start at 11 AM and finish at 9:30 PM where you have to politely explain that your winery is not in Russia even though the label clearly says : "Russian River Valley".

We all have our favorite horror stories from the road, but few of us also admit that there is a fun aspect to it too.
Like, when you ride with a distributor sales rep and meet a buyer in a new swanky wine bar and he tells you he's got no time to taste, and besides: "Merlot does not move" and 30 minutes later, after talking baseball or whatever he just keeps raving about your Merlot and orders two cases for a by-the-glass program.  Mostly, though, being on the road is always a great opportunity to learn and regain a healthy perspective of where you stand.  Tasting your wine with tens and sometimes hundreds of people every day makes you realize that regardless of scores, accolades, imaginary or real accomplishments; we are all part of creating a wine culture in America.  There is nothing like going to a tasting in a new wine bar in Cleveland and have someone tell you: "I was in Healdsburg last summer and had a bottle of your Syrah and I am now a total Syrah geek".  It seems that everything we try to achieve these days is described in warfare terms: the "war on drugs", the "Fight for equal rights", the "Battle on obesity".  It is no wonder that I feel like a soldier coming home from a successful campaign, a wine gladiator marching back to his village, full of battle scars yet his gait is strong;  "we conquered a few more minds and countless palates" he tells the village folk proudly.  Now give me a beer and the TV remote.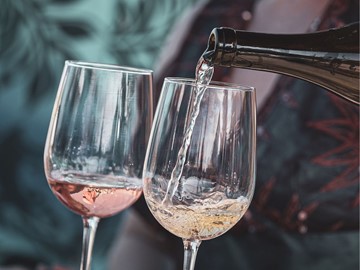 Longboard
COME VISIT US

5 Fitch Street
Healdsburg  CA  95448
Open 11 am to 6 pm daily
(707) 433 3473