The Back Label Detective Strikes Again
Those who are familiar with our wines know that we like to have fun with words on our back labels.  Over the years, as the brand grew from a true "garagiste" hobby brand to a nationally distributed regional brand (we only make wines from grapes we grow or source locally) – the lingo on our back label has toned down from being very edgy to just mildly self-deprecating. 
However, fun with words is one thing, required legal stuff is another… this post is meant to educate readers about the meaning of the different terms used to describe the information about where the wine was bottled, mandatory on US wine labels.  Some of our wines say "Produced and bottled by Longboard" some say "Vinted and Bottled",  some say "Healdsburg CA" while others say "Hopland, CA" or "Sonoma CA".  We are asked, once in a while, about the differences; so here it goes.  (BTW, If you really want all the little details, just go to CFR 27 .4 and you can read all the Federal Regulations yourself.. this is just a generic overview).
"ESTATE BOTTLED BY" - Ideally means the winery owns the vineyards from which ALL the wine in the bottle is made from and OWNS the production facility where the wine was produced and bottled.  Originally, this meant to tell you: "Hey, this is a high quality wine from one contiguous Estate".  In reality, if you have a vineyard contract on someone else's grapes and you put a clause in the contract that you may have input on growing practices, you are allowed to call these grapes "Estate" grapes.  So the original meaning has been diluted..  TTB (Trade and Taxation Bureau) is currently reviewing this term.
"PRODUCED AND BOTTLED BY" – Means the winery processed at least 75% of the grapes from which this wine was made.  I have no idea how this is supposed to guarantee a certain degree of quality… what if the winemaker is a doofus and purchased 25% plonk on the bulk market to blend in?
"CELLARED, VINTED or PREPARED" BY – means the winery fermented less than 75% of the grapes in that facility.  It can also mean that the winery never fermented a grape but rather acted like a negociant and just purchased bulk wine from someone and blended or manipulated it in another ways before bottling in that facility.
So, do you need to know this stuff and should you care where the wine was bottled or by whom?  I say no.  I know, I know, we all believe in the consumer's right to know; but this regulatory system is archaic and quite meaningless.  It does not even let the consumer know if the wine is made by a real winery or by a negociant.     But enough about you, let's get back to Longboard.  In our case, it can be a bit confusing; We are a grower, with an 02 license in our facility in Healdsburg, where we receive, ferment, age and bottle about 15% of our production, those are the wines that say "produced and bottled by Longboard, Healdsburg CA".  We also have a 17/20 license, which allows us to receive grapes, ferment, age and bottle in another facility (to which we extend the right to use our dba "Longboard Winery"); that is when the back label says: "Produced and bottled by Longboard Winery, Hopland (Sonoma or Geyserville) CA" depending on which facility we use.  Sometimes, as is the case with our "Point Break" red blend, we augment the wines we produced with wines we purchase in bulk from other wineries, if that quantity is over 25% of the wine blend, we have to say "Vinted and Bottled" etc.
Does any of this say anything about the quality of the wine? Not a thing.  There are some crappy Estate bottled wines out there and there are some great negociant, "Vinted", wines in the market (Cameron Hughes is a good example).  But now you know.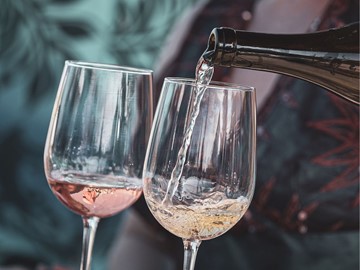 Longboard
COME VISIT US

5 Fitch Street
Healdsburg  CA  95448
Open 11 am to 6 pm daily
(707) 433 3473