Worthy Cause - Save A Wave
Anyone who's worked at a winery for any length of time knows that we get about two or three weekly requests for donations.  I am sure all businesses get them but it sure is more fun to auction a bottle of wine in a fundraiser than let's say… a carton of free range eggs.  Since I do need to make at least a tiny bit of profit while I keep this expensive hobby afloat, I find myself politely declining 90% of the requests (ok, I also rudely ignore some ridiculous ones…) then do my best to spread the love to causes that speak to me.  Over the years, Longboard has been a supporter of local causes in our community (The Healdsburg Education Foundation, Little League etc) and some global ones (AIDS research, Ocean protection and such).  In the past two years, we have donated time and wines to both the Surfing Heritage Foundation and the California Surf Museum for obvious reasons, those folk work hard to preserve surfing history.  On June 15th, Longboard will be pouring a selection of our wines at the VIP reception for the Gala / Fundraiser of the Save The Waves foundation in San Francisco.  Also, we donated a Longboard surfboard produced and signed by Robert August (has our logo on it too) that will be part of the live auction.
While I must admit I am not crazy about the name of the organization (IMHO – too many names about "saving" something), it does not stop me from seeing the important work they are trying to do, on a global level.  One of the unique things that binds all surfers is our love of travel, which exposes us to new cultures and new thinking and makes us better global citizens.  I sincerely believe that this is a trait that also binds wine lovers.  Take a look at the website and read their mission and vision statements and about the results this grassroots group has managed to achieve in a relative short period of time.  If you feel inclined, lend your support, we think it is worthwhile.
info@savethwaves.org or (831) 426-6169.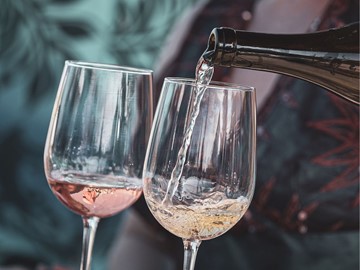 Longboard
COME VISIT US

5 Fitch Street
Healdsburg  CA  95448
Open 11 am to 6 pm daily
(707) 433 3473