Old Vines Rule
Just a quick note as I'm taking a deep breath in between vineyard and winery hops…  I've heard today that some say there's a sense of panic in wine country because of the rains that are predicted for next week.  For those of us who are long in the tooth: Panic is useless, it's like a Rocking Horse; it keeps you busy but it get's you nowhere.

We harvested the Carignane from Sadie's Vineyard yesterday, about a ton and a half of this dry-farmed ZERO intervention vineyard.  I think I am going to label it UBER-ORGANIC since other than pruning and harvesting, we did nothing to those vines.
This vineyard just has this, je nai sais quoi… "X" factor that shines in the years we can actually harvest a crop.  Maybe it is just that the old Italian families that planted these Sonoma vineyards knew something we are still learning about.  I've been saying for a while that I am a big believer in 'Regional Blends" – this, to me is a perfect example of the kind of wine we should be making in Alexander Valley.  Most of the vines are head pruned Carignane with a bit of Alicante Bouschet vines here and there, a bit of Zin vines, a few vines of Petit Sirah, some Chasellas Doree (a white grape) and one undetermined table grape vine.  All are picked into the same bins and co-fermented.  Better put your name on the list because when released, this wine is going to ROCK and there is not going to be much of it to go around.

Today we are picking malbec and Syrah and tomorrow is the BIG "D" day, when we pick Dakine Vineyard.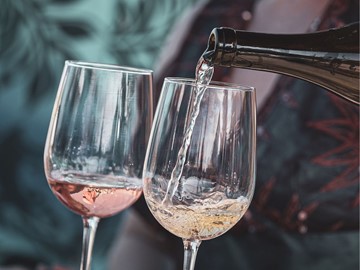 Longboard
COME VISIT US

5 Fitch Street
Healdsburg  CA  95448
Open 11 am to 6 pm daily
(707) 433 3473