First Review
Preamble
For most of you this may be the first newsletter you receive. By the time my first newsletter was ready, I pretty much ran out of wine to sell, so there was no point in sending it. It was fun to write and, I am told, read. If you want a copy, drop me a note or go to the website and print yourself a copy.
Fall in Vineland
If you live in the wine country you know this means grape trucks are all over the place, dispersing the odor of fermented must and crushed seeds throughout the county. The faces you see early in the morning at the Flying Goat Coffee Company are tired, still smiling, but a smile that is weary, saying something along the lines of: " It's been fun but that is ENOUGH!" In November we saw the first serious winter storms push in from the Pacific a little earlier than normal. For us, farmers, it is a chance to start complaining about the weird weather even before we started pruning!
First Review
Jeff Cox gets the honor of being the first journalist to mention Longboard Syrah in print. While reviewing the new RAVENOUS restaurant in Healdsburg, Joe Pezzolo must have convinced him to try the wine. Thanks Joe! Jeff, being of sound mind and palate, announced to the wine drinking public in the Redwood Empire that the Longboard Syrah was a " Superior, (if toasty-okay) version of this Rhone varietal". Jeff was right-on because he tasted the 1998 Syrah. As you'll notice, the 1999 is a little less okay but still has that great "smoked meat" character that I like so much in this variety.
Back Label Dictionary for the wave-challenged…
I have enjoyed hearing stories of people cracking up in laughter in he middle of a retail shop while reading the copy on the back label of my wines. The following is meant to clue in non-surfers to the meaning of the lingo (I've had to send this to the BATF before they would approve the label!).
If you have been to Hawaii (probable birthplace of surfing) then you are familiar with the greeting HOWZIT, Hawaiian for "How Is it".
A SPONGER is a term surfers use for those who surf "Boogie Boards" or other rubber mats – considered uncool by all, but spongers.
A GROM, short for "grommet", is someone who is just beginning to learn how to surf, also known as KOOKS. Older surfers like them for their enthusiasm (Although they will NOT admit it) but hate them for their tendency to paddle right into your path just as you are about to get tubed.
BRO, BRAH and/or BRUDDAH are, again, Hawaiian lingo references for "brother", pal etc.
BREATHING RESIN FUMES – refers to the process of building surfboards. Fiberglass cloth is soaked in an activated resin that emits nasty fumes and requires one to wear a gas mask, one of the main reasons I left that line of work.
DAWN PATROL going to surf at the crack of dawn when offshore winds prevail and the lineup is less crowded with kooks. Most hard core surfers and those of us who also have a real job tend to be there early.
GETTING CAUGHT INSIDE being in the break zone of the waves when a monster set comes in. You are not a true surfer unless you have experienced (and survived) this life and death situation or at least mastered the art of telling your surf buddies about it in a convincing manner.
OCEAN BEACH, in San Francisco is known as a spot with a nasty beach break that tests a surfer's resolve to paddle past the breakers and get to the lineup.
PURA VIDA is an expression used mostly in Costa Rica. It means "Pure Life" but in surfer lingo embodies the concept of simple, relaxed living in harmony with the Ocean.
Current Releases
The 1999 Syrah is Halfway gone. I have a limit of 6 bottles per customer at $27.50 per bottle. Some have told me to raise the price to slow sales but since I profess I am an idiot, I'd rather keep the Syrah as a GREAT VALUE. Only 60 cases where produced of this single vineyard (Preston Ranch) wine. The wine is packed with berry and black fruit flavors enrobed in smokey and earthy notes without being too okay. I have 18 cases left to last me through next summer. SOLD OUT – January 2002.
The 1999 Cabernet Sauvignon – Rochioli Vineyard is a nothing but a great, world-class Cabernet. Grown by the Rochioli family, the grapes for this wine come from very old, low-yielding Cabernet Vines planted more than 50 years ago on St. George rootstock. The berries are tiny, blueberry like, and yield a wine with intense violet and cassis (black currant) aromas. The wine aged for 20 moths in French and Oregon oak barrels. It is ready to drink now and will age beautfully for the next decade. Only 168 cases made, there will never be much of this unique wine, even though I get all the vineyard's production. I am keeping the price at the value level as long as I can sell most of it direct to customers. It retails for $37.50 per bottle with a one-case limit per customer at this time.
New at Longboard
The vines I planted in 2000 are doing really well except for a small patch that has to struggle to grow in the shade of some trees on the hillside just East of the road. Since I have no frost protection, I plan to prune the vines in early spring, just before the sap starts rising. I expect about 2 tons of Syrah mixed in with the few rows of Carignan, Zin and Petite Sirah for the 2002 harvest. Most likely, it will end up as a new single vineyard bottling (yet to be named).
Drop me a note if you have a good name for a surfer's vineyard.
Bear, an Australian Sheperd puppy is now our fierce guard dog at the ranch… he may lick you to death if you are not careful! So far it seems that he is very much into Cork QC as he heads to the cork basket and proceeds to spread the corks all over the family room on a daily basis.
The website has been updated recently, there is now a cool picture gallery. I managed to get the online forms to submit correctly.
In addition to cold cash and checks, I can now accept Visa, MasterCard, Amex (not to mention Beaver Pelts and Beads) as payment.
Please note: The online order form is not submitted on a secure server. If you want to make sure no one can mess with your credit card number, it is best if you either call me or just print the form and fax it to me with the details. When I run credit cards, I do so on a secure server and send you a receipt.
Mahalo & Pura Vida,
Oded Shakked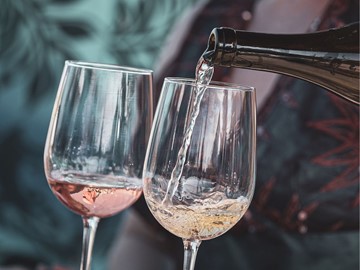 Longboard
COME VISIT US

5 Fitch Street
Healdsburg  CA  95448
Open 11 am to 6 pm daily
(707) 433 3473