In The Beginning...
I distinctly remember the smell of the damp and salty air, one early evening in 1984. I drove my beat-up blue 1969 VW station wagon to the edge of the cliff we named "Tamboulina", just north of the city of Tel-Aviv. My three best buddies Udi, Oren and Avi (aka Avroom) and I decided that sunset at the cliff would be the perfect way to say goodbye. I was headed to UC Davis, and a new life, a few days later. I was more scared than I dared reveal, even to myself. What exactly was that force that made me pack my bags and move half way across the globe to study a craft I could barely pronounce, not to mention spell correctly? As the November sun kissed the waters of the Mediterranean sea, I remember a great calm engulfing me. One day, I said to myself, one day, I'll be doing something and out of the blue – I'll remember this instant in time, and it will all make sense.
That day is today.
As I am sitting in front of my computer monitor, late at night, thinking about what I should say in my first newsletter, I am again enrobed with that same stillness of the air. I swear I can taste the salty droplets of sea mist as that moment in 1984 flashes in my mind, and in my soul. I simply realize that I can't believe I am doing this – writing a newsletter for a brand of wine that (as small as it is) is all mine. I think of how the seeds got planted, how many years of hard work and fun times provided food for the saplings, how good Karma just played in and placed
favorable conditions in my path. There are too many people to thank for the help they gave me on the road to this moment – thank you all.
As I ship the bottles of the 1998 Longboard Syrah to you, I hope you find a quiet moment to still your being, enjoy the simple pleasure of an evening with good friends around the dinner table. Feel the moment and the promise of the future. Don't be surprised if a salty ocean breeze softly brushes against your cheeks…
FIRST RELEASE
I started selling the 1998 Russian River Syrah in Late May 2001. As I write this there are 23 cases left, ten of which are quasi-reserved for various restaurants and distributors that showed interest but asked for some time to reduce their inventories before they purchase more wine. So far the feed back I got is very favorable, either the wine is good or my friends are trying to be nice to me…. Here are some facts about the wine. The grapes all came from a hillside vineyard on Eastside Road near Healdsburg that is part of the Preston Ranch, managed by VINO FARMS. I destemmed the fruit and fermented it in a "Macro Bins" which is just a fancy name for plastic containers. The wine was lightly pressed straight into new Oregon-Oak barrels where it completed malolactic fermentation and took a nap for two years. The wine was bottled unfiltered and unfined so it will, most likely, develop a sediment with time. Although just moderately alcoholic (14.2 %), the wine drinks BIG but without any heat. It shows especially well if you let it breathe for 15 minutes in the glass. Please send me any comments you have, I am very interested in knowing what you think of the style.
COMING SOON TO NOT MANY STORES NEAR YOU…
The 1999 Syrah is less woody than the 1998 and shows a little more blueberry, spice and coffee notes. It has a very full mid-palate and
a long finish that is less heavy than the 1998. Release Date – September 2001.
The 1999 Cabernet Sauvignon Rochioli Vineyard – is simply delicious. I have wanted to make a cool region Cabernet from the time I did my internship with Chateau Lafite in Pauillac in 1987. I believe that only when Cabernet reaches maturity in a cool region does it show a true cassis and violets character. The grapes are close to half a century old, grown by Joe and Tom Rochioli on a hillside near Westside Road. I feel it is a privilege to work with these grapes and the classy, salt-of-the earth people who grow them. Release date – Winter 2001.
SO HOW ARE SURFING AND WINEMAKING RELATED?
This is what LONGBOARD is all about, after all. There are many answers and they keep changing and evolving. I do not claim to have mastered all there is to surfing or winemaking. I have been doing both for a considerable length of time and I find that both are activities that engage a person on multiple levels. For me, surfing has always been part sport, part meditation and a whole lot of fun. Surfing taught me to marvel at the beauty of nature while respecting its raw, cruel power (one near-drowning experience in a life time is enough, I've had two). Talk to a vineyard manager and see if they can relate to that statement. Winegrowing taught me that balance is more important than anything and that sometimes, letting go is a form of control (any surfer can relate to this… right?). While both surfing and winemaking involve individual styles that defy attempts to be objectively rated or judged, both forms of art bring friends and family together, both unite generations, create traditions and encourage a connection with nature.
On the lighter side….
There is no connection between surfboard wax and the waxy coating of grape berries;
The grow TUBES we use in the vineyard can only be surfed if you are 2 inch tall;
SOUL surfing is a style that's all about balance and becoming one with the wave's energy. COMPETITIVE surfing is all about aggression and making showy moves that the judges and spectators can see from the bleachers. Tell me this is not the EXACT description of what's going on in the US wine arena!


BEST LOCAL STORY OF THE MONTH…
A wine buyer at a local shop told me this story about a couple who came in and asked for a great wine at a great price. The buyer sent them home with a case of wine from the northern Rhone. The next day, the husband returned with 11 bottles and asked to return the wine because he and his wife tasted a bottle and did not like it. The buyer promptly accepted the returned wine and sent them home with something else (a woody and sweet chardonnay?). A few days later a nameless wine publication rated the returned Rhone wine with a 92 Score… You know what happened next right? Yes, the couple came back to buy the same wine they did not like at double the price!
GET PUBLISHED
Send in a letter or email with a great story and if it makes it to the next issue of DAWN PATROL you win my appreciation.
BUY DIRECT
I am pretty much sold out of the 1998 Syrah. A few bottles are available for those who are good at groveling… call if you must have a bottle. I do not like the internet as a vehicle to sell wine, I'd rather talk to you in person or have you on the mailing list. Send me your name, address, email (if any) and phone number if you would like to be added to the list.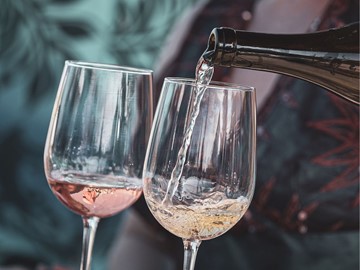 Longboard
COME VISIT US

5 Fitch Street
Healdsburg  CA  95448
Open 11 am to 6 pm daily
(707) 433 3473