Fall 2002
Waiting for a set …
It was quite a season for Longboard. I just wanted to say thanks for all the support I received from all. Your emails, the phone calls from surfers and wine lovers saying they saw a bottle here, tried one there and just HAD to have some more truly made me feel fuzzy all over (well, at least I hope it was that and not the sulfur dust from the vineyards…)
As I focused on the bottling of the 2000 vintage, getting the 2001 vintage racked from barrel to barrel and tending to the 2002 vintage growing on the vines, I enjoyed seeing more parallels between surfing and winegrowing. As the cockiness of youth is giving way to the assuredness of experience, I find myself unfazed by the tricks mother nature has been playing on us this growing season. Just as I do not get as 'bummed' as I used to when I drive to Salmon Creek Beach to find out it is windblown and the tide is all wrong. Something quiet inside is saying: "It's OK, there will be another day, life is not all about wine… or surfing"
Heads Up!
As usual, just as you think you can relax, another harvest 'jumps' on you and all the deep, almost spiritual things you thought of in the summer go out the door… to be replaced by a rush of adrenaline that turns you into a pool of quicksilver that flows from one task to another with amazing agility. Yes, harvest is here. Boy, I love the smell of diesel tractors in the morning! I once thought that nothing compares to the stoke of getting tubed during an early morning session, then I lost my virginity and changed my mind the first time… I have changed it so many times since (smelling fresh turned earth while discing a vineyard, holding your newly born baby for the first time, driving to the airport to pick up a friend you have not seen for 5 years….) that I now believe that STOKE is always in us, we just need to give it an outlet from time to time.
Sorry, I digress… I wanted to say something about Goats…
Well, not really, but I did want to make a comment about why I do not post or communicate much technical details about the wines (you know, pH, total acidity, °Brix, yeast used, days of cold soak, milligrams extract and other esoteric terms). I have a very clear philosophy about it, I call it the Goat philosophy and it goes something like that: Most of us like goat cheese. Most of us can put a piece of goat cheese in our mouth and decide whether we like it or not, whether we'd like to buy it again or not, period. Most of us (for some odd reason) do not feel compelled to ask the cheese maker if he squeezes the left udder of the goat with the same intensity as he does the right udder. We do not lose sleep if we have no idea if the goat is milked in the morning or the evening. We do not need to know how much lactic acid is in the final product or which phase the moon was in when the grass that fed the goat was harvested… do you get my drift or have I been drinking too much bottled water from a secret source in the Albanian Alps? (don't get me started on that subject!).
Oh Yeah, I have some new wine that's available…
The 2000 Syrah has been released and the first comments I got back are very nice: Fat, Juicy, Spicy, Blueberry/Blackberry, Christmas-Spice, Long, Layered and Cawabanga Dude are just some of the descriptors I got. Think Thanksgiving turkey with Blackberry/Soy marinade instead of that fake cranberry jelly. Those of you that have email already know about this, some of you already own a bottle or two, at least one die hard fan already got two cases…. 114 cases were produced, if you buy directly from me I offer a 10% discount on case quantities.
The 2000 Rochioli Cabernet Sauvignon will be released in October or November (or whenever it is ready). I have to admit that the 2000 vintage surprises me. After harvest it went through a dull stage, then, as we got closer to bottling, it came alive and started to show beautiful layered complexity. The tannins on this wine are soft and long. It definitely has a blueberry and violet character in the aroma and a bit of a "saucison" (smoked meat sausage) note from the Francois Frerres barrels. Like the 1999 (which is showing great right now) I expect this wine to continue evolving in the bottle and start showing it's full force around next spring. Hence my dilemma, do I release it now or do I wait another year? I do not think I know the answer… on one hand I know it will sell fast now, on the other I can probably ask for more per bottle if I hold it longer. Then again, I will have to pay for grapes soon enough… the saga continues. 148 Cases produced.
..and this just in from our correspondent in Beirut:
I did come up with a name for my own vineyard on Westside Road (thanks to all that sent suggestions). Look for a limited release of 2002 DaKine Vineyard Syrah (somewhere in 2004 or 2005). Mostly Syrah with little bits of petit sirah, zinfandel, malbec and granache thrown in for complexity.
A braddah by the name of Scott approached me about a Syrah Vineyard he has on the slopes of Fitch Mountain in Healdsburg. I went to check it out, walked the rows for a couple of days and the more time I spent there, the more stoked I got about the potential of the place. I am buying all the fruit it will produce this year (3 or 4 tons) and hope to add another single vineyard to the arsenal if the quality is there.
If you are in Sonoma and want to enjoy a great meal with a bottle of Longboard – please visit Syrah Bistro in Santa Rosa. Josh Silvers is not only a gifted chef but also a great person. Josh and Regina have been supporting Longboard from the start and are masters at crafting an atmosphere that brings great food, wine and company together.
I am working on getting Longboard involved in the Triple Crown of Surfing event this year. What a great way to justify a surf trip to the north shore in the winter. Two years ago I got pounded by three huge sets at Sunset Beach and thought I'd never see another day… this year I think I'll be more careful.
If you wish to order some wine fill and fax to me the order form (attached) or do it directly on the web. I'm heading back to crush some grapes and plan a surf trip.
Pura Vida and Mahalo to you all,

Oded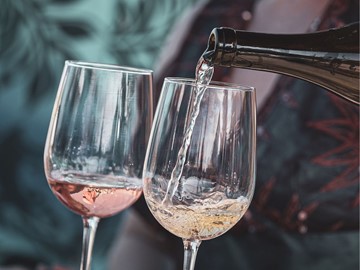 Longboard
COME VISIT US

5 Fitch Street
Healdsburg  CA  95448
Open 11 am to 6 pm daily
(707) 433 3473