Expression Session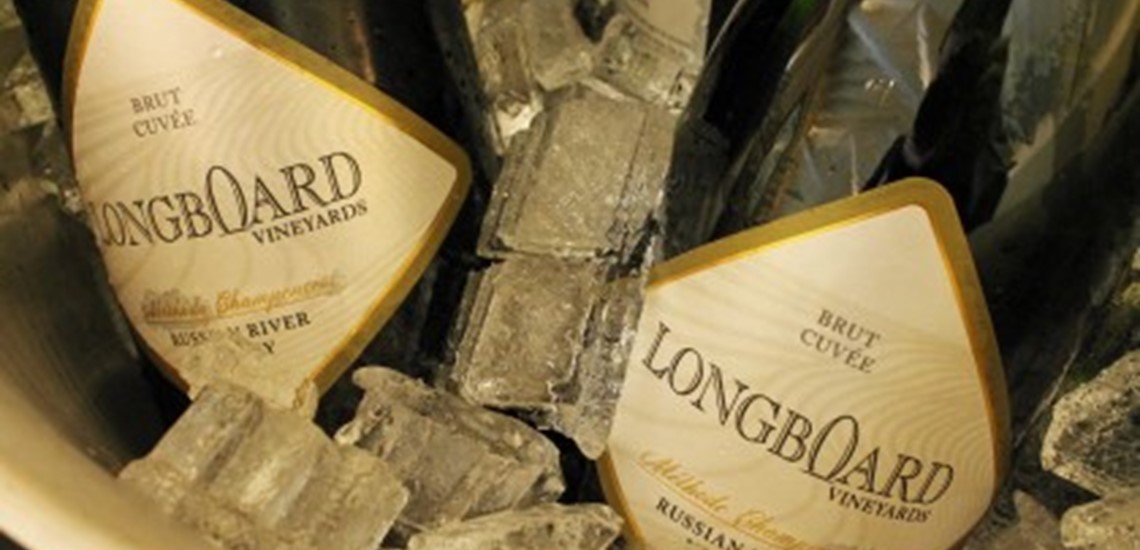 Longboard Vineyards is releasing two unique sparkling wines just in time for the holiday season. I had a love-affair with Méthode Champenoise since 1985. That year, while still an Enology student at UC Davis, I spent the first of two harvests with Domain Chandon in Napa Valley. It was because of a recommendation from Dawnine Dyer, Chandon's winemaker, that I later got my first winemaking job in 1988 with Jordan Winery in Healdsburg. I became the winemaker for what was then called "Jordan Sparkling Wine" and later became "J" Vineyards and winery in 1991 and stayed with the company until 2006 when I made Longboard my full-time endeavor.
During the 18 harvests spent directing the winemaking at "J", I was fortunate to not only work with some great fruit but also develop relationships with some notable champagne winemakers. One in particular, the late Roger Viron (for many years the winemaker for Champagne Ruinart) impressed me with his ability to transcend common norms and (while in his seventies…) blend a childish curiosity with decades of traditional winemaking. It was during assemblage (blending) sessions with Mr. Viron that I honed my skills and learned how to uncover the finesse hidden in traditionally-made sparkling wines.
I love to look at the "big picture" and my winemaking philosophy springs forth from an unwavering desire to remain creative and push the envelope; I also love to chat with guests at the winery and present my perspective. For me, the last thirty years in California (and U.S.) wine history are just the preamble. I like to point that in California, we did in thirty years what took six hundred years in Europe – we refined the American palate and created a food and wine tradition. Now is the time to get away from formulas and explore new ways to express our individuality.
The central winemaking concept behind the Longboard sparkling wines is a quest to reduce slightly the intense fruity character we are blessed with in California and to tame back part of the sour malic acid present in the grapes so that the very delicate (read: refined) méthode champenoise character can be brought forward in balance with the other components. I used only Chardonnay and Pinot Noir grapes to make the wines, I press them lightly and ferment them to dryness in old (neutral) French oak barrels. I encourage the malolactic fermentation to take place in a portion of the barrels and keep the base wine on the fine lees until spring of the following year. After the secondary fermentation and ageing period, I finish the wines with our proprietary dosage made from reserve wines. Both the BRUT and the BRUT ROSÉ are finished very dry (0.7% and 0.6% respectively).
Both wines are multi-vintage and sourced 100% from the Russian River Valley. Vintage and Reserve wines are planned for the future.