Life is Not A Syrah
Things are not always what they seem. I say that often to folk that tell me that they envy me for "living the dream" – you know: owning a vineyard and winery, being a winemaker, all that glamorous fun stuff. Normally, I find myself explaining how tough and demanding it is to be in this line of work; how knowing how to operate a forklift and fix a pump is as important as understanding yeast metabolism or having a discerning palate. Being able to work long hours, get dirty, anticipate problems, multitask and keep very good records, all make this job quite challenging. Add to that the normal pressures of keeping a business financially viable and the abnormal, and often ridiculous, alcohol regulations and you just have to wonder if you are insane by choosing to remain in this line of work.
As I get ready for my 17th harvest at Longboard I am acutely aware that none of the above are as challenging as the ongoing fight to remain relevant in an ever-changing wine marketplace. A place where it takes four years to bring a product from the field to the consumer but where consumer tastes change (often unpredictably) at an ever-increasing rate. If I would have listened to the suggestions I got in the past two years alone – I would be now producing some Grenache, Pink Moscato, thousands of cases of Rosé of Pinot Noir, a Greek variety or two and of course, a Riesling. If you have no idea what I am talking about, all you have to do is briefly scan the wine blogosphere and what remains of the print media and read some of the passionate opinions posted by folk trying to champion this variety or another.
Some wineries choose to specialize in one wine-type or even one variety only. There are many examples of this, from European producers who are only allowed to produce one wine-type in their appellation (Champagne) to American producers who specialize in Rhone Varieties, Cabernet Sauvignon, or Pinot Noir only. On the other end of the spectrum lie wineries that use the "shotgun" approach and produce everything under the sun, from Albariño to Zinfandel, changing their focus as consumers change their preferences.
At Longboard Vineyards, you guessed, I try to strike a BALANCE between both extremes. I have tried to find a good definition or catchy name for my philosophy but alas, no success so far. As I mentioned in previous posts or newsletters, this is a journey where my reward is the ability to continuously engage in the creative process (while avoiding bankruptcy). While most people may think of balance as a static state (as in the Roman Goddess Lustitia, holding the scales of justice), I always think of it as a dynamic state, one where little adjustments are constantly made in order to remain on course. If you ever take on SUP'ping (that's Stand Up Paddling) you will experience exactly what I mean; even when standing still on your board, your inner abdominals will be continuously contracting and relaxing to maintain you upright (as opposed to ungraciously falling into the water to the hoots and laughter of your friends).
Syrah is the variety that started the Longboard journey and the one I planted in my own piece of dirt on Westside Road, it remains a core variety in Longboard's portfolio. In past years, I was secretly hoping that one day Americans will "discover" the joy hidden in cool climate Syrah; the slight spiciness, the perfectly balanced tannins that allow this wine to be enjoyed when relatively young and more so, when aged 8 or more years. The Earthy notes and almost salty Soy character that makes it pair so good with meats, I can go on and on…. I now doubt Syrah will ever reach the status Merlot had in the past and Pinot Noir currently enjoys. For some reason (I have a few in mind but that is a different discussion) Syrah is perceived more as a "Blue Collar" wine than one you would serve at a state dinner. And yet, when I talk to many of our wine-club members and ask for honest feedback about their preferences, I almost always hear "We are here because we love your Syrah".
So Syrah at Longboard is not going away anytime soon. Some years I only make the "workhorse" RRV Syrah (as in 2011) and in others I add all or some of the single vineyard bottlings (Dakine, Ledbetter, Goosechase and Rodgers Creek). Then, of course there are the blends, "Point Break" was our first Cabernet-Syrah blend, back in 2007. I like blends, the exercise of putting them together is one that teaches you a lot about a current vintage, it is very much like looking at yourself reflected in the curved mirrors they used to have in Carnivals (maybe they still do). In one reflection you have tiny lower body and a huge head and in the next – you are nothing but a big belly with a few appendages. As you tweak the proportions in the blend, you get to bring characters in the wine in and out of focus and learn a lot about your lots.
Recently, while playing with blends for the 2013 Vintage, I made a mistake in measurement while doing a blend trial and ended up with a wine that was almost even proportions of Syrah and Malbec. I realized my error and was about to toss the glass to the dump bucket when, like a good mad scientist, I decided I might as well taste it. It was (as I am sure you guessed) a real Eureka! moment. By excluding the Cabernet Sauvignon and Merlot, more of what I like about Syrah remained in the wine's character but the velvety middle of the Malbec added a great dimension to it. This wine had more of a unique signature and character than the one with more varieties (and the associated complexity).
So now I face a tough decision: do I add another wine to the family or just treat this as a lesson learned? How do I keep Longboard profitable, focused and balanced but also do what I think is right from a winemaking point of view? Tough decision.
We have a saying in my family, one I first heard from my mother when I complained to her about a difficulty I was facing. She said: Life is not a penis, it's ALWAYS hard!© (send me an email if you want the T shirt). I distinctly remember my jaw dropping as my brain synapses put the puzzle together and sent my whole being into a fit of laughter. I have used this saying over the years, both to make others laugh and maybe raise their spirit and to myself, for similar reasons or just to remind myself that most things truly valuable demand an effort over time, they don't just fall in your lap.

The mad scientist is hard (pun intended) at work , dreaming up new wines and refining the old ones. On a related note, our Duke wine club members are going to get a real treat on their exclusive wine dinner this year, a vertical tasting of Syrah going back to 1999. We just finished tasting the wines with Chef Ariel Ross who will cater the dinner and were all blown away. If you have any in your cellar I highly recommend you make opening a bottle a great occasion, your friends will love you!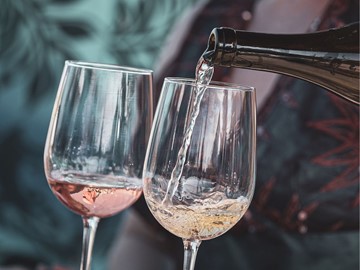 Longboard
COME VISIT US

5 Fitch Street
Healdsburg  CA  95448
Open 11 am to 6 pm daily
(707) 433 3473