Winter Musing #7
Expanding a bit on the email we sent in January…
2012 is now gone and despite the rumors of the planet's demise, we are mostly here in one or more pieces.  Nature delivered us a great gift this past harvest (Longboard's 15th); a bountiful crop that was both free of pests and diseases and brimming with developed flavors.  I know, it is boring to hear another winemaker say that wine is made in the vineyard so I'll say the same thing in a different way:  It is all in the ingredients and, boy, did we get great ingredients to work with this past harvest.  You just know things are going well when you allow yourself to take a nice nap in hammock in late August and make plans to do stuff on Labor Day weekend.  To a winemaker, it just screams "All is Well – avast yer sails!" 
The Merlot and Malbec from Dakine Vineyard are the best I ever harvested, lush and flavorful without any prune or raisining.   We scored four tons of Chardonnay from the Rochioli Estate vineyard (clone 76 which is very Mersault-like) and three tons of Pinot Noir from their hillside "Sweetwater" vineyard, just across from where the Cabernet we used to make was grown.  Flying Rooster vineyard delivered tasty grapes hours before the first rains and Redgrav Cabernet from Alexander Valley had just enough to allow us to make about 100 cases.  Anderson-Webber and Goosechase vineyards are getting better as the vines are entering early adulthood and achieving the balance of fruit to canopy ratio we like.  We barely had enough barrels to fit the bounty in our cellars. 
At Longboard, it is very easy for me to pay attention as some of the vines are barely fifty feet away from my kitchen window.  This is really a blessing for an ageing surfer who loves to take naps.  Whether I try to or not, I get a sense of what nature is "cooking" this year just by getting up in the morning and walking the dog in the vineyard.  I did not have that deep sense of knowing the grapes before I owned vineyard land. 
This deep sense is nothing mystical, it comes from repetition and familiarity, it is the same as that of a surfer paddling in to their home break, one he or she has been surfing daily for years.  Just walking to the beach you listen to the cracking sound that the lip of the wave makes when it hits the water, you start to get a clue of what today's session is going to be like.  A first glance at the surface, is the water glassy?  Is the wind offshore?  Which direction is the current moving?  Is there a channel to paddle through or do you need to get ready to puch through the waves with a series of "duck dives"?  What is the water temperature, do I have the correct wax for it?  Where is the best takeoff spot, did the sandbar shift?  Just subtitute your favorite wine parameter
As I often like to point: Winemaking and Surfing… very similar at the core.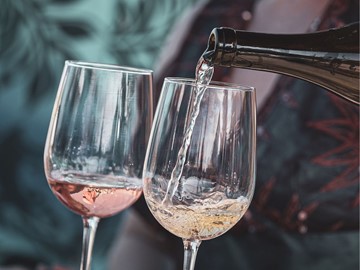 Longboard
COME VISIT US

5 Fitch Street
Healdsburg  CA  95448
Open 11 am to 6 pm daily
(707) 433 3473