Posers
Last month I had fun talking on KSRO 1350 on "The Drive" with Steven Jaxon and Larry Levine.  I can always count on some "Woodie" jokes to loosen the participants and get to a comfortable place for chatting.  At some point the question about the connection between surfing and winemaking always comes up and since time is often limited, I keep it short and sweet (and true) and talk about how in both activities mother nature is in charge and how the minute we forget or disregard her, she'll smack us smartly upside the head.

There are many other parallels, some I've touched on in past newsletters, some I bring up in conversations in the tasting room.  On Tuesday, I took a few hours in the morning to go surf with a buddy.  We both dropped our kids at school, loaded my car with all the gear (surfboards, wetsuits, towels, water for rinsing ourselves apre-surf, wax, leashes, tubs to stuff the wet gear into, ear plugs, booties, hoods and, of course, coffee mugs), and headed to Salmon Creek with the radio blaring some tunes and our souls giddy with anticipation.  As we rounded the corner by the park rangers office, we could already see a horizon filled with whitecaps, not a good sign.  Standing on the bluff, with a 20 knots NW wind howling, looking at a mishmash of windblown crap breaking on a low tide, it was clear to us we are not getting wet today.  There was nothing left to do other than grabbing a Latte and head to browse the used board section at the Northern Lights surf Shop in Bodega.
On the ride home, I could not avoid feeling like a poser.  The Urban dictionary defines a poser as a "wannabe".  I knew where the feeling comes from, from the days when I was a 12 year old grom who would go in no matter how cold or windy or crappy the Ocean was.  As a surfer grows older, we all face, at some point or another, the fact that not every wave is worth riding (in our mind).  Naturally, I was wondering if there is a parallel to the wine world here.
When I was a winemaking student at UC Davis in the mid 80′s, I had a wine notebook.  In it, I pasted the label of (almost) every wine bottle I opened (mind you, this is before pressure-sensitive labels were invented and labels soaked off the bottles pretty easily).  Next to the label, I would write my impressions of the wine, my rating of it and (if any) some publication's rating of the wine, where I enjoyed it and with whom.  Somewhere in the late 90′s, I came across that notebook while doing some spring cleaning at home, laughed my head off reading some of the bullshit I have written there and tossed it away to the garbage pile.
I hope you see the parallel here.  I now think that maybe, just maybe, we all have to be a little bit of a POSER when we fall in love with something that ends up becoming an integral part of our life.  Whether it is letting waves become a focus of your daily life or spending every spare moment documenting a wine's impression.  I now think I may have been once a poser, but no more.  Now I just enjoy the freedom of having to prove nothing to anybody and enjoy surfing when I think the conditions are good enough and a wine with no rating attached.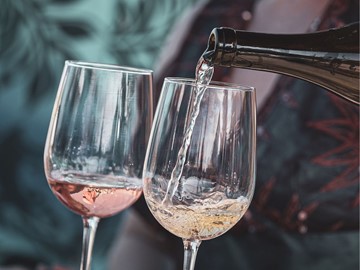 Longboard
COME VISIT US

5 Fitch Street
Healdsburg  CA  95448
Open 11 am to 6 pm daily
(707) 433 3473