Evening Glass
I just got back to the ranch from a surf trip to the Baja Peninsula and I am still hovering a few inches off the ground. There is nothing like a surf trip that goes well, trust me, I know. Larry, my surf buddy and I left San Francisco at 6 Am and we were surfing our first waves at Shipwrecks (on the east cape) by 4:30 PM that day. It was almost dark by the time I paddled in. Driving to the hotel, salty and wet, we were stoked beyond belief. I could not believe I almost cancelled the trip because of how much work I still had to attend to before harvest starts.

Unlike most tourists, we stayed away from the traps in Cabo and opted to try and find some REAL Mexico instead. So here are my Surf-Trip food and wine suggestions: After you surf a full day at Cerritos take a 15 minute trip up the coast to The town of Todos Santos (home of the original "Hotel California", still up and running, by the way). When you get to town, slow down after the second bump in the road and go have some of Miguel's fish tacos and his Chile Relleno. I am not kidding, his Chille Relleno was written up in the NY Times, and for good reason. I recommend a recent harvest of Negra Modelo beer to marry the flavors well.
I don't know about you, but when I am on a surf trip to a warm climate, I never think of red wine. However, if you find yourself having dinner at Restaurant Tequila in San Jose Del Cabo let Enrique recommend some wine to go with your meals, he has a great palate. I had some Cabernet Franc from Baja that was great, but enjoyed the Guadalupe Valley Fume Blanc even more.
For those of you that do not surf, evening glass is an expression we use to describe a quality of the ocean surface, smooth as glass. Almost every evening, almost anywhere there are waves advancing at a shoreline, there is a moment just before sunset when the winds stop, the water takes on an oily, smooth nature, the colors soften and you just can't help feeling you are part of something special. An evening glass session is what surfers live for, a perfect ending to any day, a connection to the next one.
Most likely, I will not have a chance to surf until harvest activities subside and the wines of 2004 are tucked safely in the barrels, sometime in November. However, late in the day there is nothing I enjoy more than a stroll with Bear (our 4 year-old Australian Shepherd) through the Syrah rows. As the sun goes down and the temperatures cool, the air stands still, you can smell the freshness of the crop as you brush by the millions shades of green on the vines. And yes, you (or at least me..) can pretend you are surfing a green wave on an ocean somewhere in Sonoma.
Surfer Girl
If you happen to subscribe to COASTAL LIVING magazine or if you just happened to pick up the June issue while sitting at your dentist's waiting room, eagerly anticipating the high-pitch whine of the drill and those lovely antiseptic aromas associated with a dental appointment you may have seen the Longboard mention on page 26. I was very pleasantly surprised by the flow of emails (and orders) that resulted from these 15 seconds in the limelight. Those of you in Florida and the Carolinas (where I can't ship) I am sorry… please write to your favorite representative and tell them that the 1930's are over and it is about time to join the rank of the enlightened nations. Some state's alcohol shipping laws are so archaic they can be used as proof we indeed are cousins to monkeys. Of course, I digress again. Back to surfer girls. Thanks again for the emails and the stoke. Most of all, I found out that women tend to put much more thought to presents for dear ones than men do. It made me think about the women in my life and appreciate that aspect in them a little more. Raising a tubular glass of vino to ya'll.
Board-O on the Horizon
One of the reasons it took me a while to finish writing Newsletter # 5 is that I have been juggling too many balls at one time. As if having a job and being a single dad is not enough, I managed to build a new barn and (hot off the press) acquire almost 10 acres of vineyards adjacent to my property. The acreage I bought used to belong to Arrowood / Mondavi and are planted to Merlot and Malbec. I sold most of the grapes from the 2004 vintage and kept a few tons so I can asses the real potential of the fruit. I have to tell you that this is some KILLER wine. My original plan was to convert the property to Rhone varietals as times go by, now I am thinking about the possibilities of making a Bordeaux blend (Cab/ Merlot/ Malbec/ Cabernet Franc). Stay tuned, I'll see where this all goes. In the mean time…..
Los Vinos
I am basically out of the DaKine Syrah and scraping the bottom of the pallets of the Rochioli and the Redgrav Cabernets. About 200 cases of the Russian River Syrah are still around, enough to keep everyone happy through early summer and the release of the 2003 wines. I am happy with how the wines are received, especially because a lot of my orders are repeat orders…. The greatest compliment a winegrower can hope for! Then again, in all honesty, I feel I am not there yet. Syrah is a variety that, like Pinot Noir, can yield wines that are galaxies apart. I believe in manipulating wines in the vineyard, not in the winery, so I think I am a year or two away from really hitting my stride with this variety. As far as vintages go, I am glad the 2000 and 2001 vintages are behind (they were not bad but neither were they spectacular, especially when compared to the 1999 which is an all-time favorite of mine). The 2003 vintage is definitely an "A" vintage and the 2004 is shaping up to be an "A ++" vintage, similar to the 1999 in that it has very full flavors AND a natural elegance.
As I refine the Longboard style (definitely leaning towards a local expression of a Northern Rhone Syrah) I hope to increase quantities and availability so that those of you in Florida, North Carolina, New York and Southern California have an easier time getting the wine.
Barn Again Wood
If you find yourself driving or biking on Westside Road you may have noticed my barn taking shape. I Designed and built this thing from the ground up with the help of a very talented Artisan-builder friend Tom Klaus. The barn is made from very old recycled fir and cedar and looks like it has stood there forever. If you keep your fingers crossed, I may be able to open a tasting room by appointment there. Stay Tuned.
Holiday Wine
I am going to be away from mid December until after the New Year. If you want to purchase some wine for yourself or a needy friend, try to do it before the 9th of December.
Pura Vida,
Oded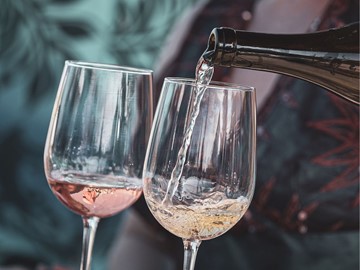 Longboard
COME VISIT US

5 Fitch Street
Healdsburg  CA  95448
Open 11 am to 6 pm daily
(707) 433 3473